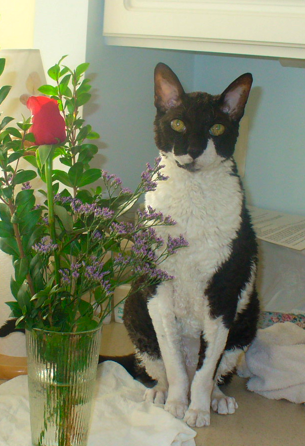 Hi. My name is Caesar and I am 16 yeers old. I was born on April 15, 1991.
I live here with my family (mommie, daddie, and two genius bean sisters that are in kollig) and my only littermate that survived, Princess. We have been together in our family for a long time. We came to live with them when we were 10 weeks old. Princess looks like her daddykitty, and I look like my mommiekitty. haha My daddie is all white and my mommie is tuxie. hmmm. we do not know where they are now....
We have had a busy life so far. Prinnie and I do not get any shots or immuniesations because we are allergik to them. The first time we had them we broke out in severe hives and had to be rushed to the emergency vet that wore red glasses, the second time I got a huge cyst on my leg owie and almost died.
Prinnie and I are genuine Cornish Rex kitties. We stay inside all the time. We get to sit at an open window now and then but we never go outside. It is too dangerous here.
We live in the suburbs of Washington DC, in Virginia and there are cars everywhere and lots of seedy creatures lurking out there.
When I was a young kitty, I was a wild monkey! I used to climb up and walk on top of the doors and curtains, and book cases, stair railings, and lamps and a couple of times I jumped from the up stairs into the family room which is like 20 feet up there. The first time I jumped down to the family room, mom thought I knocked a lamp over upstairs, but then I walked by her when she was in the down stairs bathroom. The second time she was ironing some of daddies shirts and I wanted to get to her quickly so I just showed her the cool thing I could do. She was not happy, I could tell because she screamed at me! So I like jumping from high places, but now I am old and I have to be careful.
My tail is 13 and a half inches long. I like being black and white. I am a very gentle kitty, I never bite or scratch, not even at the evil vet. The vetman calls me docile and sweet.
I like chiken the best. and Tempations. I have lots of toys in my two toy baskits.
I am very very vocal and I like to sing very loud at 9:00 PM sharp, and at other times too.
I respond to the following names: Mr. Loveyboy, The Love Tiger, Holstein kitty, and DopeyDude (mommie calls me that sometimes) and also Beeberlie.
If you call those names, I will come to you.
The end.
Caesar's blog is located
HERE